Strong joint leadership combined with nurture and academic achievement are at the heart of Atlantic Academy Portland's transformation into one of Dorset's top schools.
Places available for Reception and Year 7, September 2022 start. 
HOW TO APPLY
To apply to Atlantic Academy, please submit an application form to Dorset Council. 
For any guidance on admissions, please contact apply@atlantic-aspirations.org.
Secondary Tour Dates
Friday 17th September 10:00am
Tuesday 21st  September 3:30 pm 
Wednesday   29th  September 11:30am
Thursday 7th October 3:30 pm
Monday  11th October 10:00am
Wednesday   20th October 11:30am
The tours provide an opportunity to find out more about our fantastic school and the places available for September 2022. The events will be hosted by Principal Lesley Bishop, our Admissions Co-ordinator and students who will be more than happy to answer questions. To attend, please email: apply@atlantic-aspirations.org
Secondary Open Evening Information Presentation 2021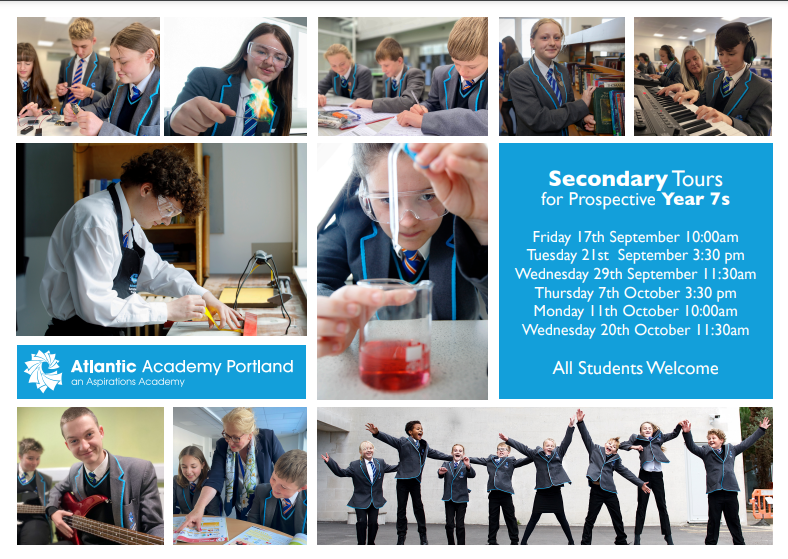 VIRTUAL TOUR
Please enjoy the below video as an insight into life at Atlantic Academy and see how happy and successful your child could be.
ABOUT ATLANTIC ACADEMY
As an all-through, once your child starts in Reception you will never have to worry about finding a new school again. The transition from primary to secondary will be a seamless and well-supported journey.
Our goal is to deliver an exciting and engaging curriculum, to improve outcomes for all our students and provide opportunities for cultural enrichment.  We want all our students to live happy, healthy and productive lives.
Under the guidance of Principals Melissa Heppell and Lesley Bishop, Atlantic Academy, which is surrounded by breathtaking sea views, proudly sits at the top of the NPP fairer schools league table for Secondary Progress 8 in Dorset, and students in Primary make above average progress with Key Stage 2 Assessments.
The top ranking of our school is a reflection of the ethos that runs through the school: To combine academic prowess with character, commitment and confidence.
Our school's unique nature and small size ensures that we know all of our school community, enabling us to provide the highest expectations of our students.
Reception
Our Reception class is designed to support a play-based curriculum which enables all pupils to flourish and grow into happy, confident children who are ready to start the next stage of their learning journey in Key Stage 1.
Year 7
Our Secondary curriculum which starts in Year 7 focuses on an educational framework that delivers high aspirations and high levels of academic performance alongside the development of our No limits Curriculum with a focus on future employability skills:
High expectations
Employability
Opportunity
Innovation and Enterprise
Challenge and Engagement
Talent Development
Makers and Creators
Global citizens
We will always begin the process of working with yourself, your child and staff at your child's current school to ensure that your child has a smooth transition into Atlantic Academy for a September start.
WITH BIG DREAMS AND HARD WORK, ANYTHING IS POSSIBLE.